Explore Western Canada - 2 With a View
Get two incredible perks with the new offer.
ADD 2 FREE PERKS, WORTH UP TO $500 IN VALUE PER COUPLE.
1X HOTEL NIGHT
Keep your adventure going with an extra night in Vancouver, Victoria, Calgary or the Rockies at the beginning or end of your journey.

1X TRANSFER
Ride in style with a free pick-up or drop-off.

When you book a qualifying 2020 package of 5 days or more. Offer expires February 28, 2020.
Select your service level:
Incredible views. Impeccable service.
SEE THE ROCKY MOUNTAINS IN STYLE
The SilverLeaf service level gives you everything you need and more to experience the majesty of the mountains in luxury: panoramic views, delicious meals and beverages brought right to your seat, friendly Hosts and complimentary baggage transfers. And miles and miles of memories.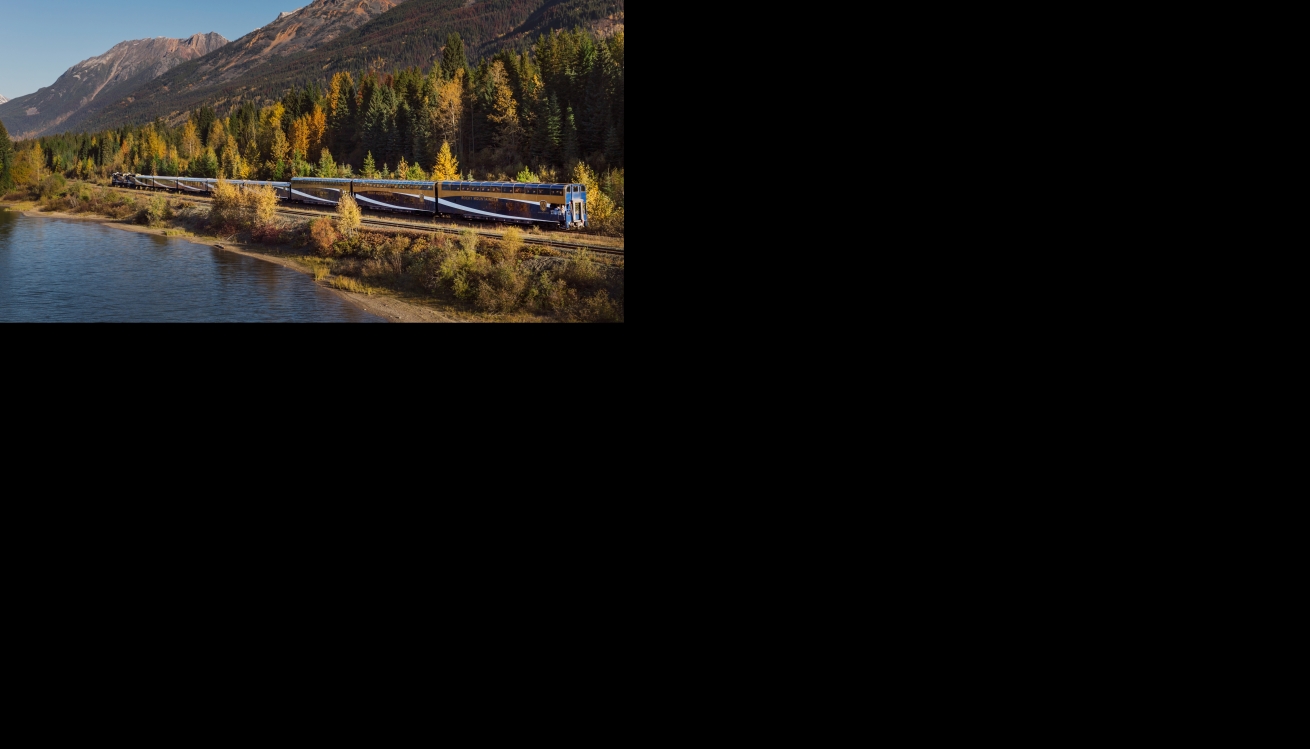 See it All
Our custom-designed glass-dome coaches give you a truly panoramic view of your surroundings. The oversized windows give you a clean, crisp view and make photography a snap. So you can take it all in from the comfort of your reclining chair. Or you can get a little bit closer in our outdoor viewing area.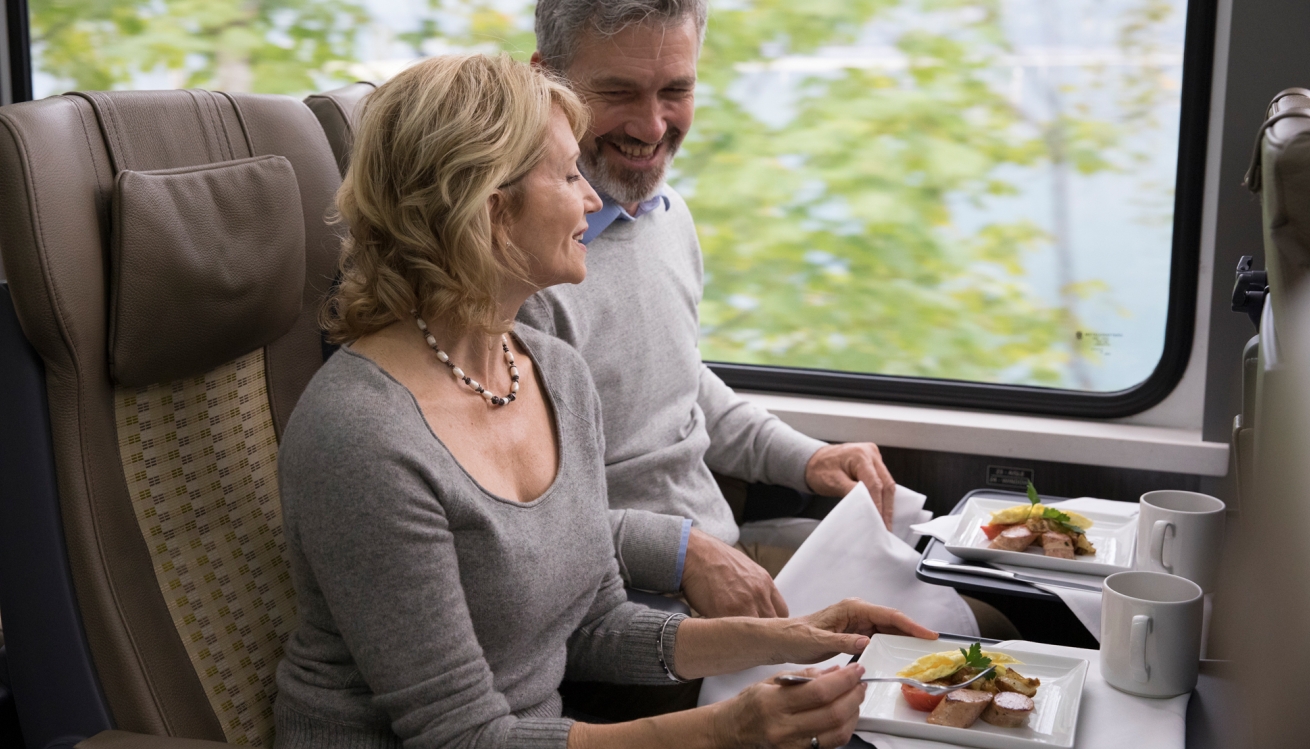 A Feast for Your Senses
Enjoy gourmet meals served in the comfort of your seat. It might even take your eyes away from the window – at least for a little while.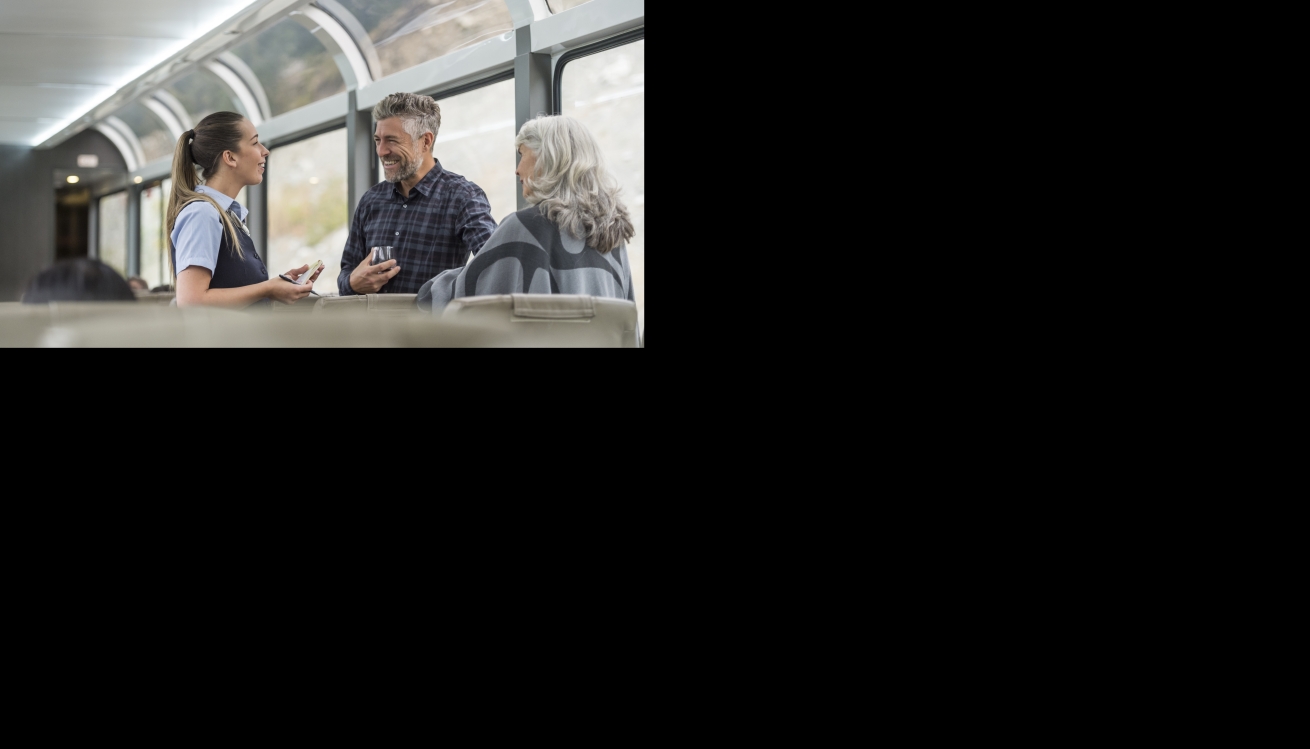 Smiles for Miles
Our friendly team of Hosts and culinary team members will serve your meals, entertain you with stories, take care of those special requests, and ensure your comfort, so that you can focus on the journey ahead.
Breakfast Sample Menu
Enjoy our Western Canada-inspired cuisine as you gaze at the breathtaking views from the comfort of your seat.
Breakfast begins with a cinnamon scone, baked daily, and a fresh fruit salad.
THREE CHEESE OMELETTE
A fluffy omelette filled with a classic Canadian cheese trio, served with peppered chicken sausages, skillet potatoes and roasted tomatoes.
FIELD BERRY PARFAIT
House-made roasted almond granola, sweet field berry compote and creamy yogurt.
Lunch Sample Menu
From our fresh Fraser Valley chicken breast to prime Alberta beef short ribs, all our meals are plated to your preference and served alongside a selection of local BC wines and beer.
SLICED TOMATO SALAD
Freshly sliced Roma tomatoes tossed with onions, celery, and shredded feta cheese in a mustard seed dressing.
Your Choice of Main
GRILLED SALMON
Fresh salmon fillet, cooked to perfection with a creamy dill sauce
BRAISED SHORT RIBS
Tender Alberta beef short ribs braised in Okanagan Valley Merlot.
Accompanied with Creamy garlic mashed potatoes and roasted root vegetables.
CHEF'S DESSERT CREATION
Train by Day, Hotel by Night. Sample SilverLeaf hotels are:
Fairmont Chateau Lake Louise
Elk + Avenue Hotel
JW Marriott Parq Vancouver
The Height of Luxury
FIVE-STAR COMFORT MEETS FIVE-STAR VIEWS
Indulge your senses with gourmet meals prepared by Executive Chefs, and expansive views through the panoramic windows of a bi-level glass dome coach.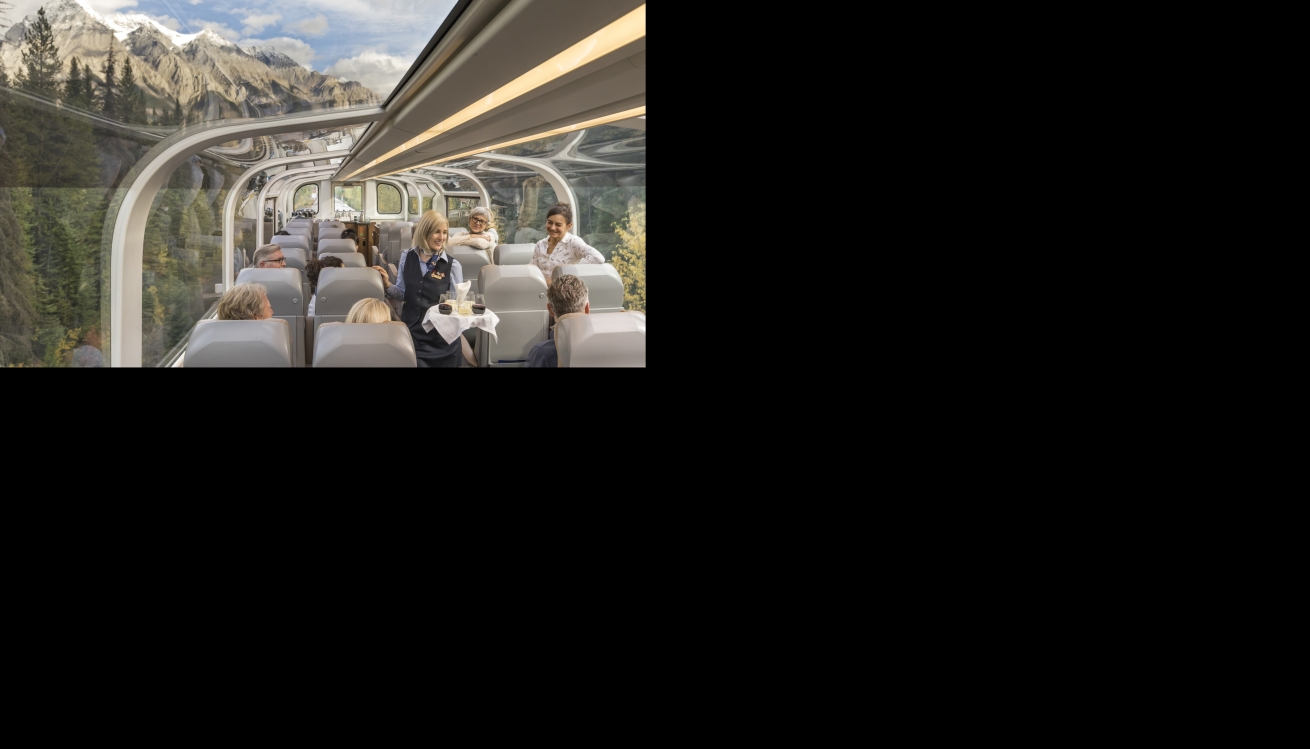 Room. With a View
Stretch your legs and your viewing angles in our bi-level glass-dome coaches. Sink into your spacious seat on the upper level and enjoy meals in the lower-level dining area.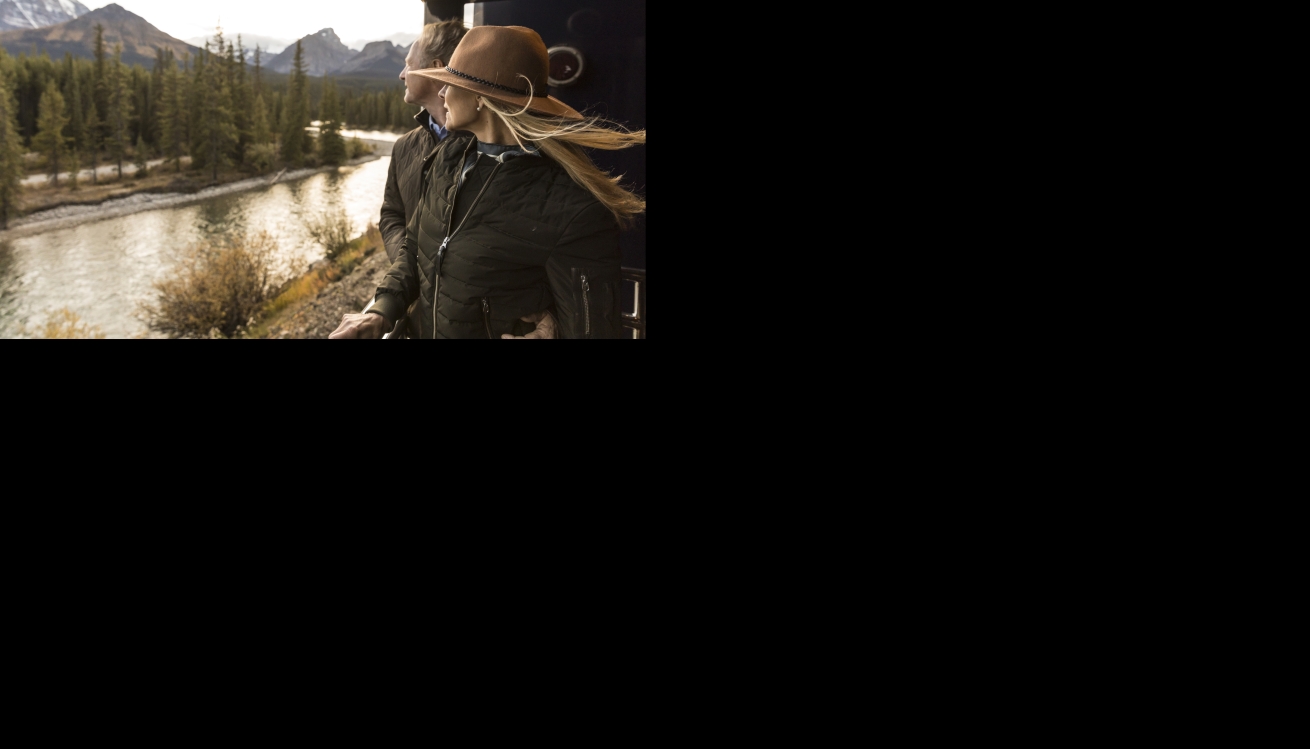 Outdoor Viewing Platform
Step out onto your exclusive outdoor viewing platform to get closer to the action.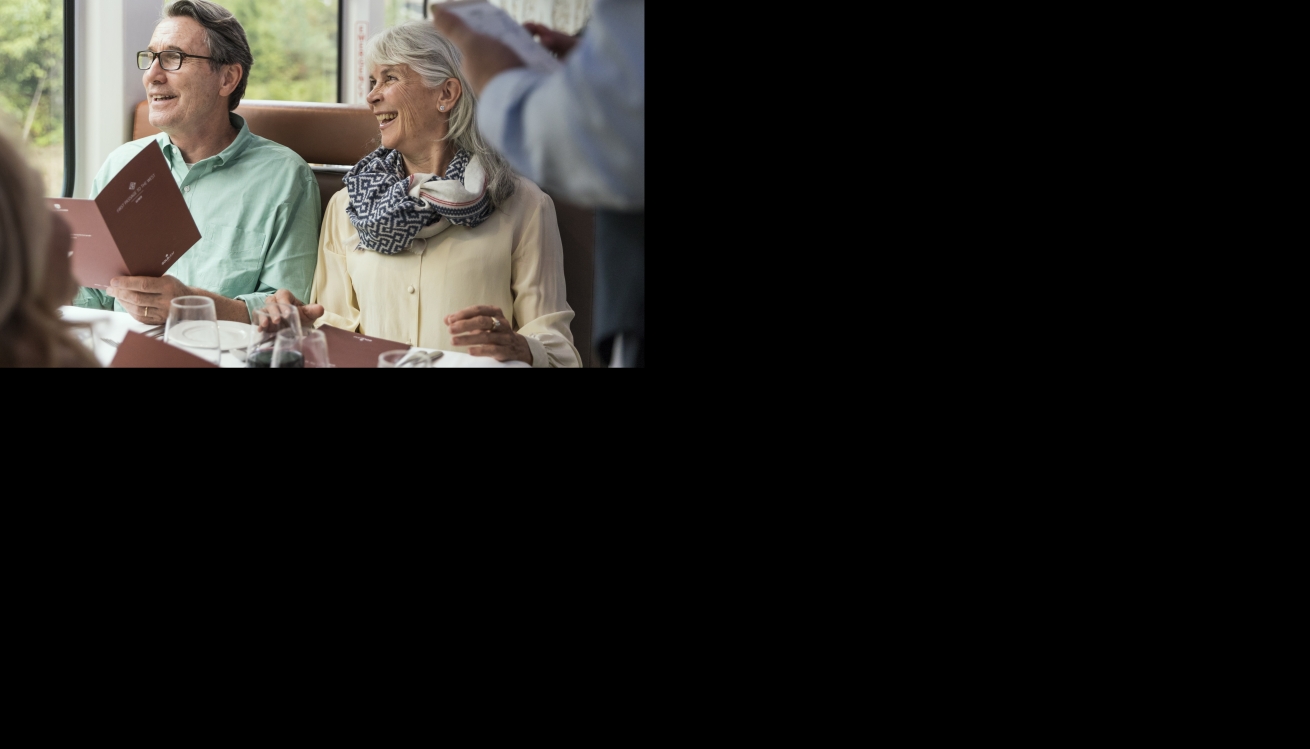 You'll Taste the Difference
Savour every second as you enjoy elegantly plated meals prepared with local ingredients from the comfort of a dedicated dining room – all the while, sprawling views of the Rocky Mountains will be unfolding right outside your window.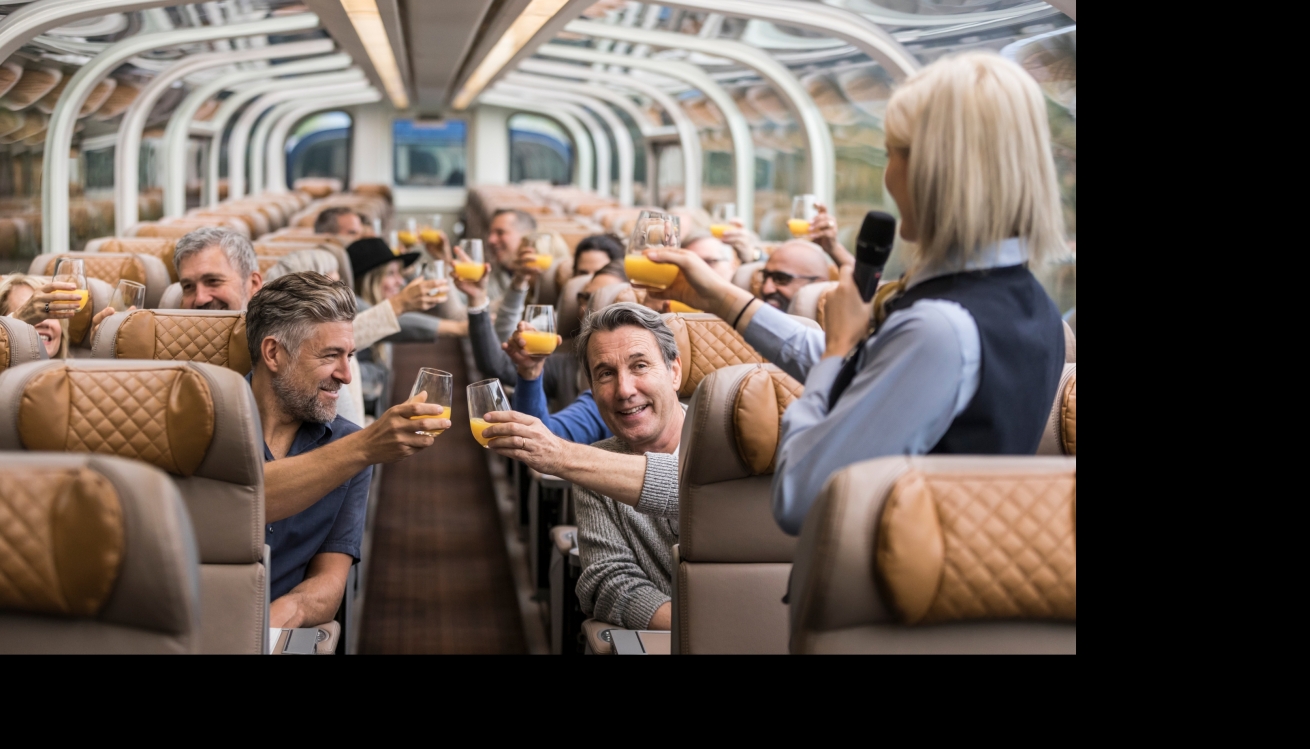 Award-Winning Service
Sit back and enjoy the scenery as our Hosts attend to your every need. From entertaining you with stories about passing landmarks to topping up your glass of wine and calling out wildlife sightings, you can rest assured that everything will be taken care of.
Breakfast Sample Menu
Ease yourself into another glorious day with a gourmet breakfast served in the exclusive lower-level dining room of your dome coach.
Breakfast begins with Chef's seasonal fruit creation and a freshly baked treat.
SUNRISE SKILLET
A baked egg served over Yukon Gold potatoes, smoked farmer's sausage, bacon, tomatoes and roasted mushrooms.
SPINACH, FETA & EGG SOUFFLÉ
Roasted Yukon Gold potatoes and smoked farmer's sausage.
SMOKED SALMON & EGG SCRAMBLE
Roasted Yukon Gold potatoes, crème fraîche, smoked salmon and a crispy corn tortilla.
EGGS BENEDICT
Poached eggs, Montréal-style smoked beef on a toasted English muffin, topped with tarragon hollandaise.
BUTTERMILK PANCAKES
Light and fluffy with warm blueberries.
TRADITIONAL OATMEAL
Rolled oats, brown sugar and fresh berries.
FIELD BERRY PARFAIT
Homemade crunchy roasted almond granola, layered with a sweet field berry compote and creamy yogurt.
Lunch Sample Menu
Paired with local BC wines, our three-course gourmet lunch features crisp white linens, gleaming silverware, and a mouth-watering menu with locally sourced ingredients.
Lunch begins with Chef's daily soup, or a fresh seasonal salad.
PACIFIC SALMON
Oven-baked and served with garlic herb risotto, local market vegetables and a grainy mustard-seed vinaigrette.
FRASER VALLEY CHICKEN
Roasted and served with Yukon Gold potatoes, local market vegetables and a field mushroom sauce.
ALBERTA STRIPLOIN STEAK
AAA Grade beef, served medium-rare in a peppercorn sauce with horseradish mashed potatoes and fresh market vegetables.
GARDEN FLATBREAD
Tomatoes, spinach, artichokes, sweet red onion, feta cheese and mozzarella baked on a multigrain flatbread.
CHIPOTLE CHILI
Three-bean chili with cumin and mild chipotle, local market vegetables and corn tortillas.
CHEF'S DESSERT CREATION
Train by Day, Hotel by Night. Sample GoldLeaf hotels are:

The Rimrock Resort Hotel
Fairmont Palliser
Fairmont Jasper Park Lodge
Photo credit: Traveloscopy on Visual" class="redactor-linkify-object">https://visualhunt.com/re6/193644ef">Visual hunt / CC BY-ND

Terms, conditions and restrictions apply; pricing, availability, and other details subject to change and/ or apply to US or Canadian residents. Please confirm details and booking information with your travel advisor.