Belmond Brazil - Hotel Das Cataratas
A gem beside Brazil's Iguassu Falls
Surrounded by lush rainforest, this pastel-pink hideaway grants exclusive access to the park—minus the crowds

Seeing the falls in near solitude is magical, but we offer more than just a great location. Step through our doors into a world of understated luxury. Soak up the jungle chorus while you float in the pool, stroll gardens bejewelled with orchids and sip caipirinhas as the sun goes down. Embark on the ultimate adventure at South America's first and only Forbes Five Star hotel, and you'll never want to leave.
Embrace the spirit of adventure in the Brazilian rainforest
Known the world-over as Brazil's best natural wonder, Iguassu Falls tours are taken to new heights with the help of our concierge.
Our unique location makes the perfect base for exploration. Enter the park before the crowds. Take a hair-raising speed boat ride or helicopter charter, Or hike hidden trails teeming with wildlife.
FIRST LIGHT WALKS

See the majesty of first light on a dawn walk, in partnership with Leica Sport Optics. We'll provide you with a pair of Leica Trinovid 8x42 HD binoculars to encounter the rare flora and fauna of the rainforest in truly magical light.

After a relaxing night, wake up early and choose to take a private tour with an expert guide and photographer or join a larger group for a walk to the Falls. Alternatively, set off on your own with the help of our map. 24-hour advanced reservations required.



BACKSTAGE EXPERIENCE
The rare wildlife makes Iguassu one of the best places to visit in Brazil. Visit the Bird Park and meet baby birds and rare parrots. Feed toucans and flamingos by hand, or come face to face with an anaconda.
A seasonal drink and tropical fruit complete this 90 minute tour.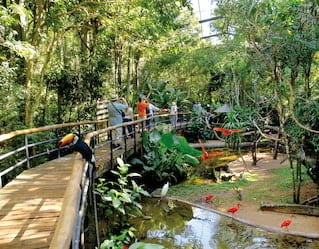 BIRD PARK
Brazil is home to some of the world's most magnificent birds. Meet a variety at the Bird Park, a beloved bird sanctuary just moments from the Iguassu National Park entrance.
Admire more than 160 species in 12 acres of natural habit, then feed the flamingos before you say goodbye.
BRAZILIAN WINE TASTING
Brazil's wine heritage is both young and completely unique. The country's diverse landscape and climate, varied cultural influences and vinicultural innovations have produced some of the world's best wines.
Join our sommelier in The Wine Cellar at Belmond Hotel das Cataratas, where you'll discover the secrets of Brazil's finest bottles.
Available Monday to Saturday, 5pm-10pm (booking available up to four-hours prior)
Suitable for ages 18 and over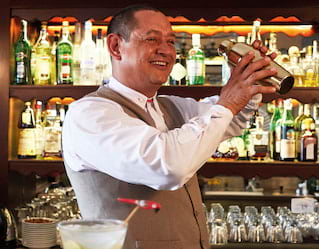 CACHAÇA TASTING
The Caipirinha cocktail is quintessentially Brazilian. The cooling zesty edge, blends deliciously with a smooth cachaça core to form this iconic cocktail. In celebration of Brazil's national spirit, our cachaça sommelier, Nacir Zandoná will lead you on a journey of flavours. Head to our glamorous Bar Tarobá and choose from four tasting menus as you prepare to become a cachaça connoisseur.
Available Monday to Saturday, 5pm-10pm (booking available up to four-hours prior)
Suitable for ages 18 and over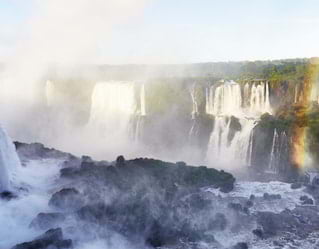 FOREST EXPERIENCE
Gather around a campfire at dusk with indigenous Guarani-Mbya. Take part in an authentic welcome ritual, feast on traditional cuisine and enact a tobacco ceremony with tribal elders.
All proceeds go to the Guarani community. This activity takes place outside the hotel.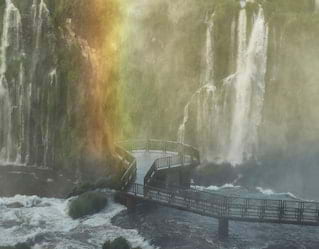 FULL MOON WALKING TOUR
Feel the pulse of the jungle on this nocturnal tour. Set off during a full moon to witness the lunar rainbow, a sight rarely seen by most. Traverse hidden trails as you spot bats, lizards and other wildlife.
This unique tour is led by our resident biologist and lasts around 90 minutes.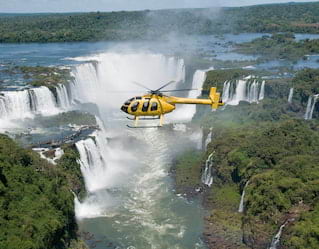 HELICOPTER RIDE
Anticipate a life-changing experience with a thrilling 10-minute flight above the Falls. Enjoy a unique perspective of the entire park and the colossal power of the tumbling waters.
You can also choose a longer 35-minute tour to the Three Borders Landmark where Brazil meets Argentina and Paraguay.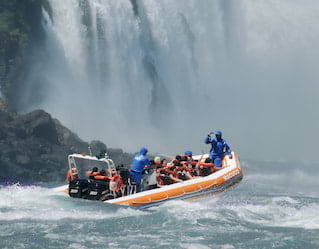 MACUCO SAFARI
One of the best ways to experience the Lower Falls is by speedboat. As part of our popular Macuco Safari, you'll start your journey with a jeep ride through the rainforest canopy before transferring to a speedboat downriver.
The views of The Three Musketeers and Devil's Throat are unmissable.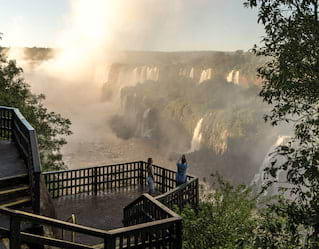 MORNING WALKS
As the only hotel within Brazil's Iguassu National Park, guests can join a series of exclusive guided walking excursions.
Breathe in the aromas of the jungle as you chase iguana footprints, and take the route less-traveled towards the Falls' viewing platforms. Remember your raincoat––the spray is spectacular.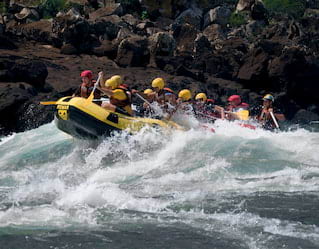 WATERFALL RAPPELLING AND RAFTING
Set your pulse racing as you rappel 20m down the famous Salto Macuco waterfall. Alternatively, conquer the rapids on the Iguassu River. After a traditional Macuco Safari, swap boats at the rafting station for a white-knuckle experience. The final stretch of river is tranquil—a welcome opportunity to jump in and float.
Photo credit: nathanh100 on Visualhunt / CC BY

Terms, conditions and restrictions apply; pricing, availability, and other details subject to change and/ or apply to US or Canadian residents. Please confirm details and booking information with your travel advisor.