Classic Tanzania
Stand in awe of the vast panoramas of Tanzania, a land of untouched landscapes, diverse wildlife and welcoming people. Get acquainted with the people and the food at Gibbs Farm, a historic coffee and vegetable farm. Continue on to Ngorongoro Crater, a large volcanic caldera and known as one of the seven natural wonders of Africa. Spend time in the Serengeti taking in five game drives, including two in the early morning to catch a glimpse of the wildlife returning from a night of hunting. Discover stunning Lake Eyasi, a beautiful oasis in the bush that boasts a tropical ecosystem. Gain a real insight into the way of life of some of Tanzania's fascinating tribe. Meet the Datoga tribe - skilled farmers, craftsmen and blacksmiths, and the Hadzabe tribe – learn how they hunt and live off the land. Explore Tarangire National Park, famous for its elephant migration and quiet atmosphere.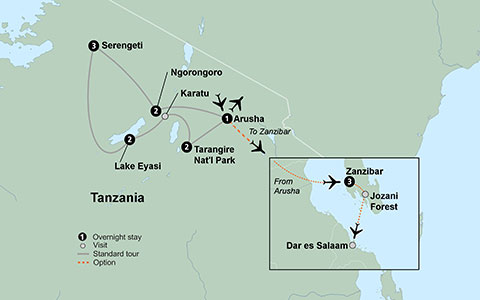 Get to know the people, the crops and the history of famous Gibb's Farm.
Explore Ngorongoro Crater, a UNESCO World Heritage site and natural wonder of Africa.
Enjoy nine exciting game drives.
Spend time with the Datoga and Hadzabe tribes and learn about their culture firsthand.
Personalize Your Trip

Pre and Post Tour Extensions. Start and end your vacation rested.
Terms, conditions and restrictions apply; pricing, availability, and other details subject to change and/ or apply to US or Canadian residents. Please confirm details and booking information with your travel advisor.