Experience Sri Lanka
Sri Lanka is a beautiful jewel of an island located in the Indian Ocean. Its culture is influenced by Indian, Portuguese, Dutch and British people who have all left their mark on Sri Lanka over the course of history. This makes for an exciting blend of ancient cities punctuated by monuments and colonial architecture. All of this is set against a backdrop of beautiful beaches and lush green mountains.


Explore the intriguing island of Sri Lanka. Embark on a comprehensive tour of its largest city, Colombo. Delight in a visit to a home for orphaned elephants that have been abandoned. Stand in awe before you climb up the 5th-century Sigiriya Rock Fortress, a former palace and UNESCO World Heritage Site. See elephants bathing and grazing in their natural habitat in Minneriya National Park. Learn about the unique spices used in Sri Lankan cuisine, such as cinnamon, clove and cardamom at a spice market. Behold the fascinating Temple of the Tooth Relic in Kandy, revered in the Buddhist world. Take a guided tour of a tea estate and see how tea is packed using traditional methods. Come to know the legends and art of traditional Sri Lankan mask making. Along the way discover a country of deep history and traditions and the immeasurable beauty of unspoiled landscapes.

Visit the inspiring Pinnawala Elephant Orphanage.
Learn about the various spices used in Sri Lankan cooking.
Discover the impressive gilded Temple of the Tooth Relic.
Cruise the tranquil Mahaweli River.
Visit the Bandu Wijesooriya School of Dancing.
Destinations Must-Do's: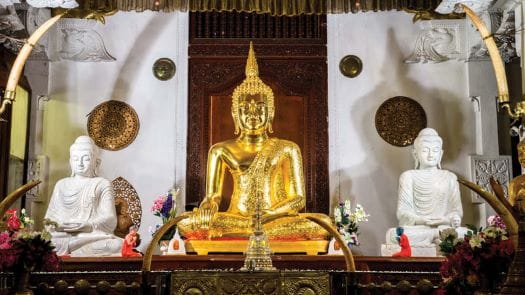 Visit the Temple of the Sacred Tooth Relic in Sri Lanka:
Located in Kandy in the royal palace complex, this gilded temple is revered by Buddhists the world over. It is considered to be the place that holds the actual tooth of Buddha. The tooth itself plays an important political role since it is thought that whoever holds the tooth also holds political power.
Terms, conditions and restrictions apply; pricing, availability, and other details subject to change and/ or apply to US or Canadian residents. Please confirm details and booking information with your travel advisor.