Paradisus Cancun, Mexico
Where you want to be IN CANCUN...
Paradisus Cancún All Inclusive Luxury Resort offers luxurious, spacious and elegantly decorated rooms on a pristine beach that is short 15 minutes from the airport. Whether you are on the beach, at one of the four lagoon-inspired pools, or dining in any of our nine on-site restaurants, our goal is your total satisfaction. Indulge yourself with upgraded Royal Service and let us show you what makes us among the best hotel in Cancun. Tennis, a nine-hole par 3 golf course, Kids Club, YHI Spa and a Family Concierge option give you plenty to do and ways to explore during a picture perfect Cancun dream vacation.
Restaurants
Cancun has a lot to offer, like stunning beaches and breathtaking views, but at Paradisus Cancun we also offer unforgettable culinary experiences. Michelin rated Chef Martin Berasategui and his restaurant, Tempo, sets the bar for culinary excellence. But with nine restaurants and five bars, that is just the beginning.
A delicious and nourishing array of culinary options for everyone from the foodie seeking the latest epicurean delights to the comfort food lover and the most health-conscious between them. Thanks to our 24-hour Room Service and our bevy of restaurants, guests have options for every hour of the day and, once they see what we have to offer, they just might want to.

TEMPO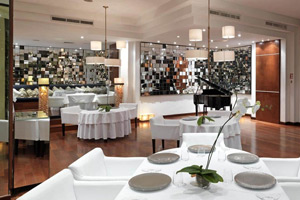 BY MARTIN BERASATEGUI
Six Star Michelin Chef Martin Berasategui brings his world-renowned cooking to Cancun thanks to Paradisus Cancun's Tempo restaurant. The restaurant is open to all including non-guests and provides a retro-glamorous atmosphere perfect for intimate conversations over long dinners. (Additional Charges may apply).
Type of cuisine: Contemporary Basque
Atmosphere: Perfect combination of elegance, the avant garde and the traditional flavours of Basque cuisine.
Dress code: Formal/elegant
Adults only
Access: Paradisus, RS, FC and walk-in guests
Opening times: 6pm to 10pm every day of the week
MOLE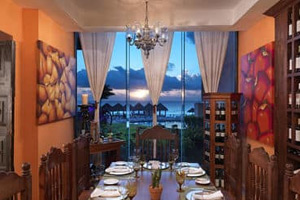 You have never had Mexican food like this. Now you can experience the authentic, rich flavors and various layers of Mexican contemporary cuisine. The food is the star at this restaurant starting with special made-to-order quesadillas. The traditional meets the modern in décor as well with gorgeous Mexican tiles lining the wall. The best table in the house goes to the corner overlooking the Caribbean. This might make for the best Mexican meal of your life.
Type of cuisine: Contemporary Mexican
Atmosphere: Where luxury and Mexican traditionalism fuse for the perfect Mexican culinary experience.
Dress code: Resort casual/formal
Access: Paradisus, RS, FC and walk-in guests
Opening times: 6pm to 10pm every day of the week
And many more other restaurants and bars to enjoy at this beautiful resort...
Terms, conditions and restrictions apply; pricing, availability, and other details subject to change and/ or apply to US or Canadian residents. Please confirm details and booking information with your travel advisor.